5S define Strength & Conditioning as the physical and physiological development of an individual for a specific need or goal.
It encompasses all aspects of physical training, taking an educated approach to programming exercise. Combining barbell training with specific development of overall conditioning, ranging from speed, agility and quickness, to cardio-respiratory and muscular endurance.
Come and try a full week for FREE – No need to book in, just come along to any class and give it a go!
Check out our class timetable at the bottom of the page.
5S Strength Classes
Every week five strength training sessions are programmed onto the "5S Strength Board" and our coaches are more than happy to tailor these sessions to suit your training schedule and goals.
The sessions are composed of squat, push and pull variations and have proven time and time again to result in huge physical progressions in every individual who takes them on.
If you have an interest in the Olympic lifts, we can also tailor the programming to incorporate the Snatch and Clean & Jerk, and variations/breakdowns of these lifts.
Our aim is to introduce you to a more educated approach to weight training. Concentrating on developing good form and technique, while pushing you through a strength session that will reap real results!
5S Conditioning Classes
These sessions are all about building your anaerobic thresholds, cardio-respiratory and muscular endurance. Essentially what people refer to as "fitness".
Using high intensity training principles, our 5S coaches will push you to your limits on intense circuit based workouts. Utilising dumbbells, kettlebells, medicine balls, slam balls, battle ropes, suspension trainers, prowler sledges and much more.
We facilitate training that not only keeps your heart rate up and muscles working, but also keeps you interested to see what we have in store for your next session.
This style of training will have you burning huge amounts of calories not just during the session, but for hours afterwards. Getting you fitter and leaner than you have ever been!
5S Strongman/Woman Classes
The Strongman/Woman classes involve pushing. pulling and picking up a wide variety of weights and specialist equipment, often walking with the weight or putting it over your head – think Worlds Strongest Man, but tailored to suit all strength levels and abilities.
Some of the equipment used on these sessions are prowlers, sledges, axle bars, logs, atlas stones, truck tyres, heavy dumbbells and much more.
If you want to take your training to the next level, these classes are for you!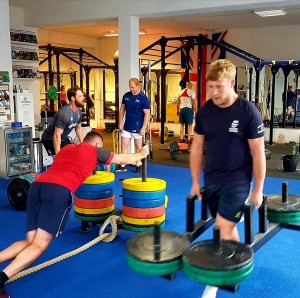 5S Junior Athletes Classes (12+yrs)
These sessions are programmed Strength & Conditioning for 12-16 year olds. Specifically introducing them to the primary strength movements, squat, push and pull and how to best develop these movement patterns using a barbell.
We also take them through the basics of Olympic Lifting.
The benefit of resistance training for this age group is one of the most misunderstood areas within the fitness industry.
Properly programmed Strength & Conditioning, delivered by experienced coaches brings nothing but huge benefits, both physically and mentally.
Alongside building a strong and healthy individuals, it will Instil discipline and a solid work ethic!
Monday

06:30 – 07:30
Conditioning
09:30 – 10:30
Conditioning
12:15 – 12:45
Conditioning
16:30 – 17:30
Booked S&C Slot
17:30 – 18:30
Conditioning
18:30 – 19:30
Strength
19:30 – 20:30
Conditioning
Tuesday

06:30 – 07:30
Strength
09:30 – 10:30
Strength
12:15 – 12:45
Conditioning
16:30 – 17:30
Junior Athletes
17:30 – 18:30
Strength/Strongman
18:30 – 19:30
Conditioning
19:30 – 20:30
Strength
Wednesday

06:30 – 07:30
Conditioning
09:30 – 10:30
Conditioning
12:15 – 12:45
Conditioning
16:30 – 17:30
Junior Athletes
17:30 – 18:30
Conditioning
18:30 – 19:30
Strength
19:30 – 20:30
Conditioning
Thursday

06:30 – 07:30
Strength
09:30 – 10:30
Strength
12:15 – 12:45
Conditioning
16:30 – 17:30
Junior Athletes
17:30 – 18:30
Strength/Strongman
18:30 – 19:30
Conditioning
19:30 – 20:30
Strength
Friday

06:30 – 07:30
Conditioning
09:30 – 10:30
Conditioning
12:15 – 12:45
Conditioning
16:30 – 17:30
Junior Athletes
17:30 – 18:30
Conditioning
18:30 – 19:30
Strength
19:30 – 20:30
Conditioning
Saturday

08:30 – 09:30
Conditioning
09:30 – 10:30
Junior Athletes
11:00 – 14:00
Workshops